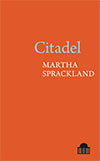 Citadel
Shortlisted for the John Pollard International Poetry Prize 2021
Shortlisted for the Forward Prize for Best First Collection
Shortlisted for the Costa Poetry Award
NAMED BEST DEBUT COLLECTION IN THE TELEGRAPH'S BOOKS OF THE YEAR 2020
Selected as one of the TLS Books of the Year 2020
Telegraph Poetry Book of the Month
Ambit Poetry Book of the Week
Pavilion Poetry / Liverpool University Press, April 2020.
Available direct from the publisher here.
Juana of Castile (commonly referred to as Juana la Loca – Joanna the Mad) was a sixteenth-century Queen of Spain, daughter of the instigators of the Inquisition. Conspired against, betrayed, imprisoned and usurped by her father, husband and son in turn, she lived much of her life confined at Tordesillas, and left almost nothing by way of a written record. The poems in Citadel are written by a composite 'I' – part Reformation-era monarch, part twenty-first century poet – brought together by a rupture in time as the result of ambiguous, traumatic events in the lives of two women separated by almost five hundred years. Across the distance between central Spain and the northwest coast of England these powerful, unsettling poems echo and double back, threading together the remembered places of childhood, the touchstones of pain, and the dreamscapes of an anxious, interior world. Symbolic objects – the cord, the telephone, eggs, a flashing blue light – make obsessive return, communication becoming increasingly difficult as the storm moves in over the sea. Citadel is a daring and luminous debut.
'[D]isorientating but exhilarating at the same time . . . Sprackland has the dizzying ability to jump-cut from past to present and back again quickly and to feel absolutely in control while doing it' – Mat Riches, The Friday Poem
'So much fire comes to life in snapshots on these pages ... The images are electrifying. Something marvellous occurs: a domestic scene becomes "a blow to the head / enough to knock the earth from its orbit." I love this book.' – Ilya Kaminsky
'Martha Sprackland's poems are virtuosic in their timing, texture, and detailed evocation. From poems of the hospital to poems of the shore, this is a fierce and fresh debut that rings with courage and intelligence. Citadel will seize you by the heart and lead you into deep and resonant territories, and when you return you will find yourself changed, strange to yourself, and wondrously enriched.' – Fiona Benson
'a spellbinding, time-travelling debut filled with imagination and mystery.' The Costa Award judges 2020
'These history-inspired works shine with a dark brilliance, with Sprackland's rigorous scholarship combined with an artist's eye.' Bidisha, Poetry Review
'[Citadel's] fierce intensity arises, in part, from a centripetal quality to the perspective ... there is an urgency to the writing which is beguiling and strong.' Ian Pople, PN Review
'Sharp, delicious and multi-layered verse. To meld the symbolic with the historic into an interior dreamscape of pain and glory is no easy task. Citadel is elaborate, robust, pleasurable, and built to last.' David Morgan O'Connor, Rhino Poetry
'[M]y favourite poetry book of the year: original, startling and exquisitely patterned. I read it very slowly – rationing myself to a few poems a day – because I was enjoying it so much.' Joe Dunthorne, The White Review
'Citadel is extraordinary. A chameleonic debut collection ... I am deeply moved by this book, its tenderness and its violence.' – Jack Solloway, Voice Mag
'Sprackland's poetic process depends on the conversations held with an extreme figure from history, whose own voice has been long hidden, but without ever succumbing to biography or retelling. The end result is pleasingly strange; a collection which defies the limits of physics to find a timeslip between centuries old inner-city Spain and the north-west coastal towns of 21st century England.' Hannah Whaley, Dundee Review of the Arts
'The most arresting book that I've read this year ... I've returned over and again to this little work of perfect art: the language is so lithe, exact and rich; the painterly images such a joy; the sensibility so fine and rare. Citadel has a careful, agile, flowing structure: many poems in the voice of a sixteenth-century Spanish queen, and others in Sprackland's own. Her luxuriant conjuring eloquence about objects, places and emotion reminds me of Elizabeth Bishop's.' Richard Davenport-Hines, 'Books of the Year', the TLS
'...it gave me goosebumps ... physical sensations leap out: the taste of a pepper, the ache of a tooth. Even the strangest descriptions have a rightness about them.' – Tristram Fane Saunders, Telegraph
'Citadel is keenly responsive to questions of place and displacement ... Sprackland's painterly visions linger long in the memory.' Aingeal Clare, Guardian
'Will this be pretty nostalgia? Hardly... This is a startling debut collection: crisp and controlled, ceaselessly inquisitive, and often moving and empathetic.' Rory Waterman, TLS
'Martha Sprackland captures a kind of pain that can be just as intense and all-encompassing, but which almost never turns up in poems – toothache. It might remind you of Sylvia Plath's famous "Cut", where a similar torrent of metaphors flows from another seemingly trivial hurt (a nicked finger)...' Poem of the Week, Telegraph